R13 (F 650 GS, GS Dakar) F 650 GS Dakar 04 (0176,0186) Vario case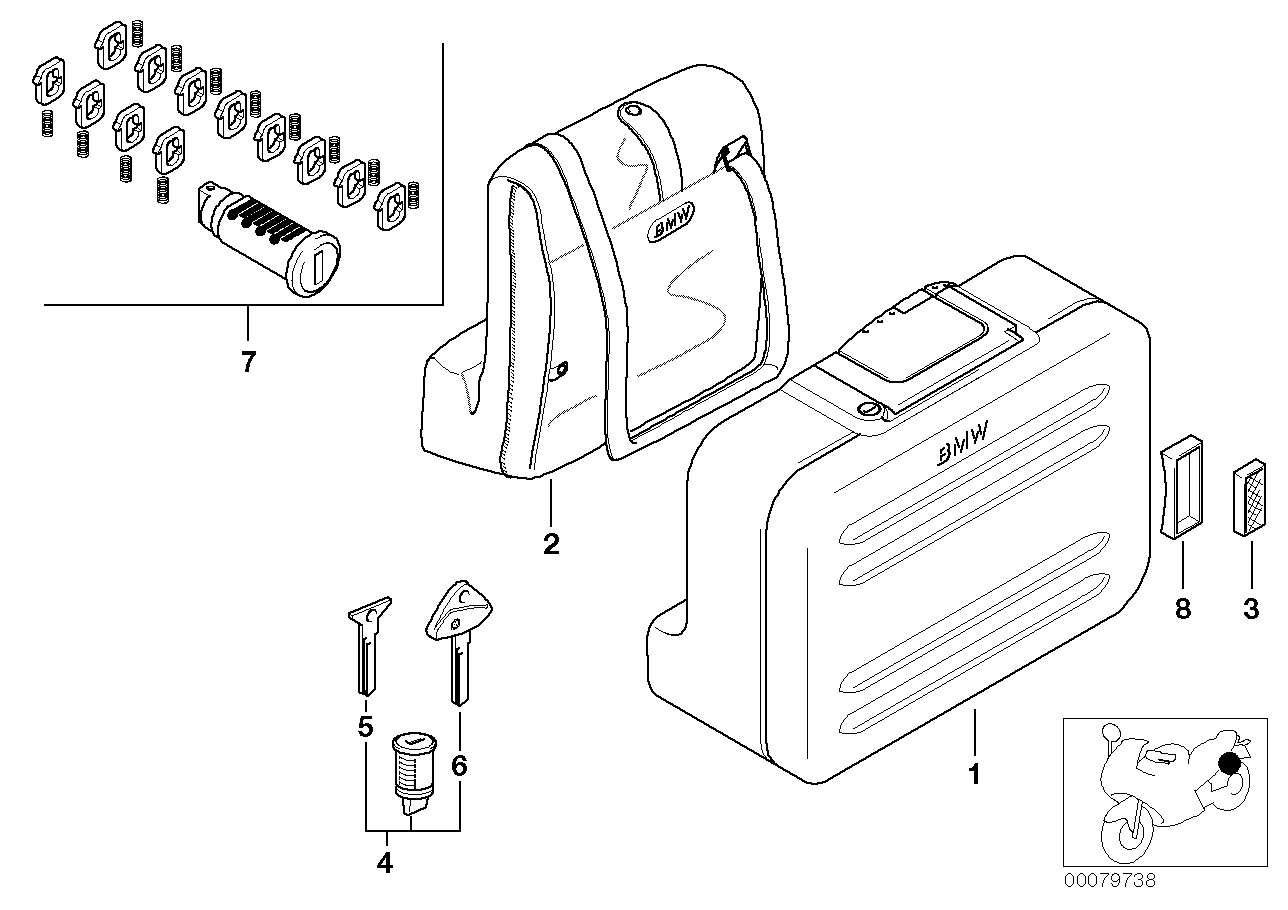 No.
Description
Supp.
Qty
 From 
 Up To 
Part Number
Price
Notes
01
Case left
1
77418559933
only applies to
01
Case right
1
77418559934
only applies to
--
Installation instructions, suitcase
F650GS
X
01297661913
ENDED
02
Interior bag f case
F650GS/GS-DAKAR
1
71607653339
$151.14
+core
03
Reflector, red
1
63141459995
$8.92
04
Lock cylinder
1
51252313282
$30.00
+core
04
Lock (with key code)
1
51252313283
$66.25
+core
04
Set of suitcase locks
1
51257660860
$50.31
+core
05
Ignition key (code)
1
51259062811
$23.75
06
Ignition key (code)
1
51259062812
$35.09
Also for vehicle uniform locking system
07
Rep.kit f lock cylinder
2
51252337269
$38.44
Important notice! Before ordering keys,
central locking systems, control units
(EWS immobilizer/CAS), etc., it is
vital to ensure that the customer
and/or vehicle owner present proof of
authorization in the form of original
vehicle documents and an official photo
ID! A power of attorney from the
vehicle owner is also required for
authorised third parties. Copies of the
specified credentials (proof of
authorisation) must be kept in the
vehicle records. Please inform BMW
Service immediately if a vehicle key is
lost so it can be deactivated in order
to avoid taking the risk of losing the
insurance cover due to gross negligence
in the event of a theft.
Notes
ENDED = the part has been discontinued (no longer available).
+core = plus core charge (possibility of a return of the old part)
Copyright © RealOEM.com