4' F83 M4 M4 BMW LA wheel M star spoke 666M - 20"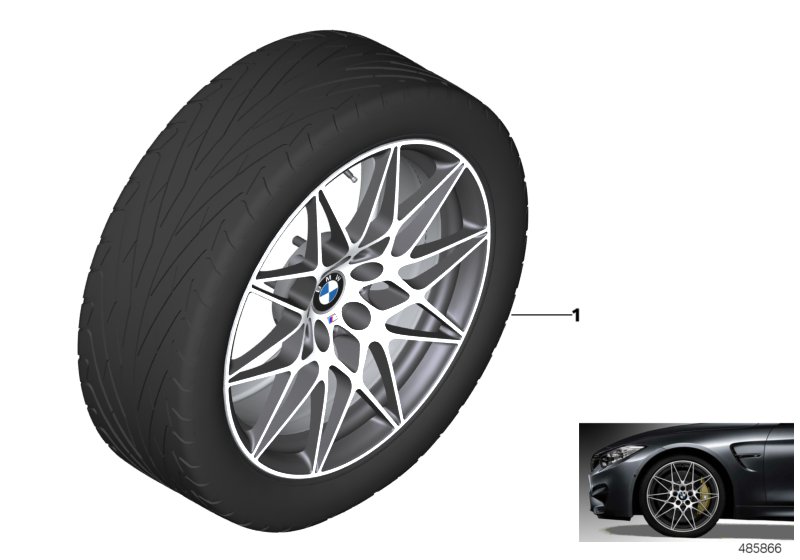 No.
Description
Supp.
Qty
 From 
 Up To 
Part Number
Price
Notes
  i
Notice:
Only for vehicles with EG-BE approval.
Official entry
in the registration documents may be
required for
the wheel and tire set under some
conditions.
Please check vehicle CoC to determine
whether
an official approval entry for the
wheel and tire
combination is present. If this is not
the case it
may be necessary to obtain post-factory
field approval
sanctioning use in the specific
country!!
For vehicles with
Tire pressure display
Standard tires without
emergency running properties
Mixed tyres
Front axle 265/30ZR20 94Y
Rear axle 285/30ZR20 99Y
Michelin Pilot Super Sport
Please note: If the tires are not
entered on the end of line tire
pressure label a corresponding tire
pressure label must be provided!
The tire pressure labels from the
Competition Package can be used for all
F80/F82/F83 vehicles without
Competition Package!

S2VBA=Yes
01
RDCi wheel&tire Ferricgrey mach. polish
1
36112446084
ENDED
Notes
ENDED = the part has been discontinued (no longer available).
Copyright © RealOEM.com